Ok so, I feel like I need to redeem myself after posting about my
pathetic noodle burning experience
.
Sorry pasta! I love you (although you do make me fat) and I promise to be more careful next time! :)
I'm going to share with you my favorite easy peazy recipe for dinner.
I know its good because
EVERY
time I bring it to work someone asks me for the recipe as they
put their face
uncomfortably
close to my bowl of soup.
So here it is:
Vegetable Soup
How to make it like me (and now many of my co-workers)
1 big bottle of Campbell's tomato juice
1 bag of frozen veggies for SOUP (get the kind that says "Soup" on it)
2-3 big potatoes, depending if you want more of a stew or soup
1 package of vegetable soup spices (my mom says to get Knorrs)

1lb of Ground beef
Minced garlic
Chopped onions
Brown the ground beef with the garlic and onion. Drain the beef. Cut up the potatoes into bite sizes. Pour all the ingredients together in a big pot bring to a boil then simmer until the potatoes are soft.
Love it for rainy days or cooler weather. You can also do it in the crock-pot!
PS: Did ya enter my giveaway? Do it now! :)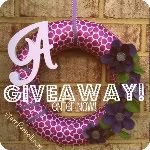 linking to these fun parties:
Catch A Glimpse